Agency News
Marcus Thomas lauds loyalty through promotion of three leaders
November 16th 2022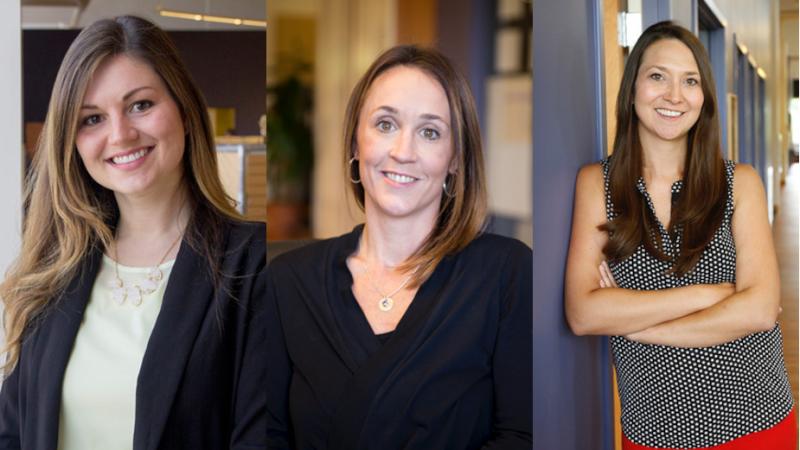 Marcus Thomas has promoted three longtime employees to Vice President roles: Elizabeth Abate, Jordan Laneve, and Stephanie Burris. All three women have been with Marcus Thomas since the early 2010s and have been instrumental in leading the agency to new heights.
Elizabeth Abate, vice president, media, joined Marcus Thomas in 2010 as a media planner. Her experience spans digital, social, programmatic, traditional and non-traditional touchpoints, as well as teaching — she developed and taught a media planning curriculum to undergraduate juniors and seniors at the Kent State University School of Journalism and Mass Communication. At Marcus Thomas, she leads a team that develops and executes media strategies by pinpointing the optimal mix of paid, earned, and owned touchpoints, exploring new ways to use digital and traditional media together on behalf of established and emerging brands, like Ohio Lottery and Gold Star Chili. She's passionate about work that shifts culture in a positive direction, like the agency's "Feel Like a Million" Ohio Lottery campaign which upended people's assumptions of "winning" by focusing on the emotional impact smaller monetary amounts could make on someone's life. Her current obsession is AI and how different applications of it are influencing mass communication and culture. She also volunteers and serves on the board of Fostering Hope, a local non-profit that brings joy to the lives of kids in foster care.
Jordan Laneve, who joined Marcus Thomas in 2012, is now vice president, search marketing, responsible for overseeing the paid search and SEO teams, as well as running the SEM program for the agency's largest client, Dexcom DTC (US). She has witnessed the evolution of the search industry, adapting to the ever-changing search space by combining audience insights, analytics, and technology to deliver solutions designed to outlast trends. Like Abate, the inclusive, collaborative, and respectful culture at Marcus Thomas is what originally drew Laneve to the agency and is what keeps her there. When she's not knee deep in spreadsheets, Laneve unwinds by listening to true crime podcasts, playing beach volleyball, or hiking with dog Gunner and whichever kid(s) she can convince to come with her.
Stephanie Burris, vice president, executive creative director, started at Marcus Thomas a few years after Abate and Laneve, but has made a sizable impact of her own on the agency, leading creative on Vitamix, KraftMaid and multiple new business wins. She has a passion for purpose-driven brands, emotional storytelling and work that creates value in people's lives. Outside of the agency, Stephanie serves on the board of directors for Shoes and Clothes for Kids and aspires to write a book for her two young sons. In her new role at Marcus Thomas, Stephanie's ambitions include continuing to cultivate the agency's tight-knit culture, boundless curiosity, and creative collisions in an ever-expanding, hybrid world.
"One of Marcus Thomas's longtime core values has been to build from within, whether it's in the community surrounding us, or under our own roof," said agency Chief Creative Officer Jamie Venorsky. "Our agency is so lucky to have grown and achieved success due in large part to the contributions of these three women, and they now have the titles to match what they mean to Marcus Thomas."